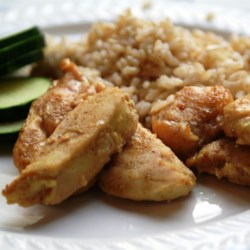 This simple and fast recipe makes a hearty supper that everyone will enjoy. This roasted chicken is both sweet and savory with just a hint of spice.
Serve it with some steamed vegetables and your favorite rice or potato on the side!
INGREDIENTS
1 whole chicken, cut into pieces
1/2 cup butter, melted
1/2 cup honey
1/4 cup
prepared mustard
1 teaspoon salt
1 teaspoon
curry
powder
DIRECTIONS
1. Preheat oven to 350 degrees F (175 degrees C).
2. Place chicken pieces in a shallow baking pan, skin side up.
3. Combine the melted butter, honey,
mustard
, salt and
curry
powder and pour the mixture over the chicken.
4. Bake in the preheated oven for 1 1/4 hours (75 minutes), basting every 15 minutes with pan drippings, until the chicken is nicely browned and tender and the juices run clear.
Submit your favorite recipe
to be posted and you could receive a free gourmet gift if selected. Drawing for free gourmet gift is random and at the sole discretion of "The Last Bite".