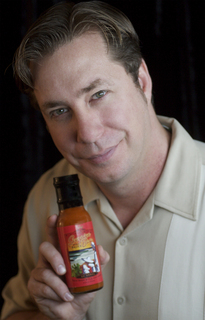 (PRLEAP.COM) January 11, 2008 – To a gourmet hot sauce company, an opportunity like this is the key ingredient to gaining worldwide exposure. Such is the case for
Scorpion Bay Hot Sauce
. Scorpion Bay will be a featured exhibitor for the first time at the 2008 Winter Fancy Food Show, held at the San Diego Convention Center on January 13th—15th. The show, now in its thirty-third year, features more than 1,100 exhibitors from around the globe, and offers over 100,000 individual food items to sample.
"It's a spectacular opportunity to put us on the "taste radar" of a much wider audience," says Scorpion Bay's founder and Encinitas resident Rob Burns. Burns, whose love of surfing and extensive travels throughout coastal Mexico first attracted him to the flavors of the region, began experimenting with thicker,
Baja-inspired sauces
from his kitchen. When his friends' demand for these homemade sauces exceeded his ability to produce them, he realized that he had something special, and Scorpion Bay Hot Sauce was launched.
It's been quite a ride as of late for this enthusiastic purveyor of hot sauce. Since his company's humble inception, Burns is thrilled to add that he's doubled sales every quarter, a remarkable feat in such a competitive marketplace. And his success hasn't gone unnoticed. Just last year
Scorpion Bay
teamed up with the Southern California based retailer/distributor Hot Licks. In no time at all, customers were buying up Scorpion Bay's unique flavors, and sales went skyward. So when Hot Licks decided to exhibit at this year's Fancy Food Show, inviting its featured vendor was a natural choice.
At the show you'll have an opportunity to get a taste of
Scorpion Bay Hot Sauce
served up on an iconic Baja offering—fish tacos. Attendees will get to sample from the company's three eclectic flavors:
HotAcado Avocado, De Arbol and Chocopotle Chipotle Hot Sauce
. What makes all of these sauces stand apart is their consistency, which is noticeably thicker than traditional commercial hot sauces. Scorpion Bay's motto, "Do what you love—do it well and you will never go wrong," is found on the side of every bottle.
Full story Here